Seasonal Me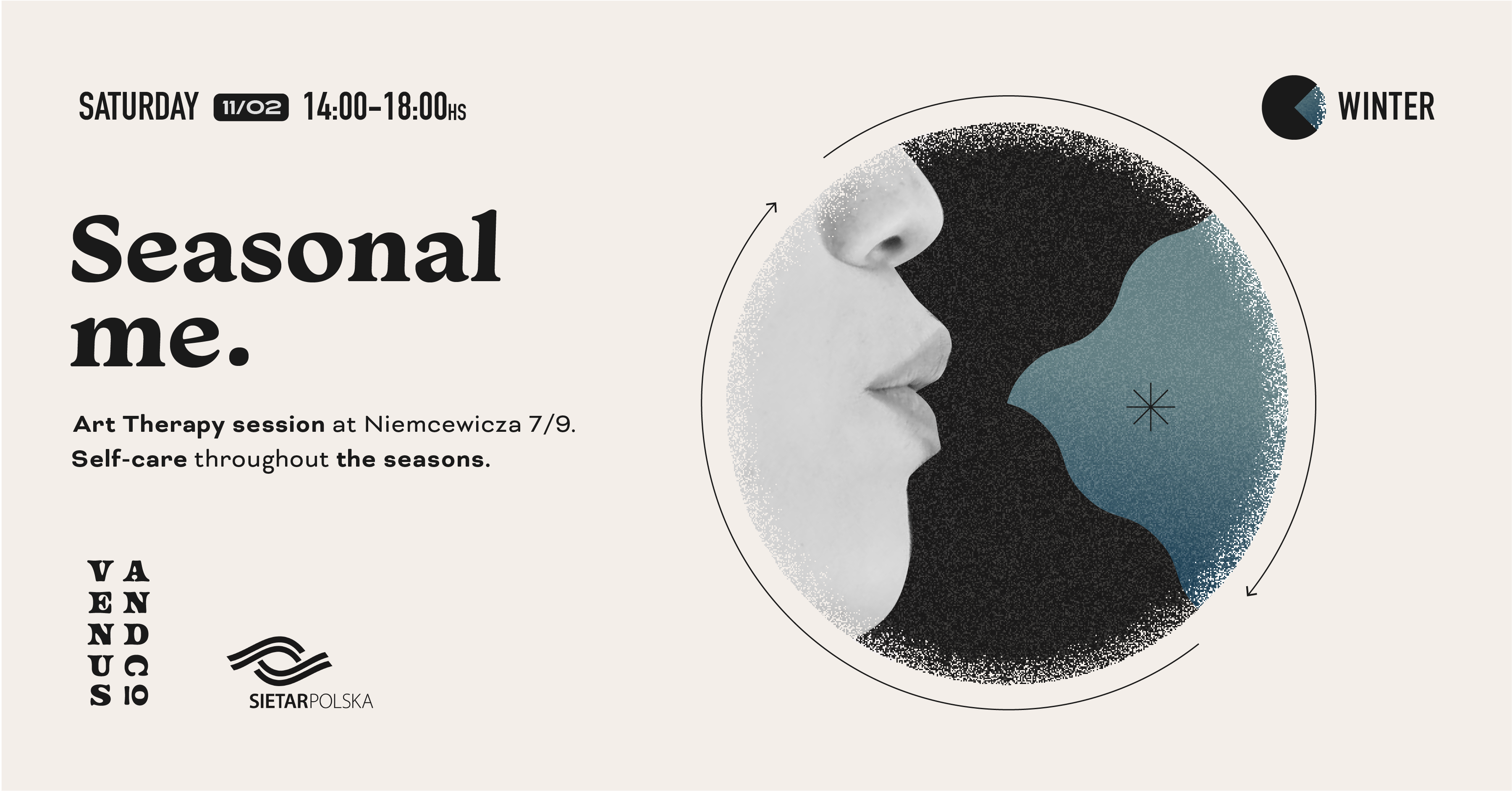 [PL] Seasonal Me to seria warsztatów kreatywnych dla dorosłych prowadzonych przez psycholożkę i projektantki. W każdym sezonie proponujemy Wam techniki arteterapeutyczne, które możecie wykorzystać aby lepiej zadbać o swój dobrostan.
Zapraszamy Was na kolejny warsztat z serii – zima! Podczas spotkania będziemy tworzyć formy rzeźbiarskie inspirowane florą i fauną z wykorzystaniem technik wiązania i owijania. Wykonane amulety staną się symbolem naszych intencji i wartości na kolejny sezon.
Przychodząc na nasz warsztat doświadczysz:
– Spontanicznego wyrażania i przeobrażania świadomych i nieświadomych części siebie
– Poznania technik artystycznych za pomocą których rozwiniesz kreatywność
– Możliwości dzielenia się refleksjami
– Wspólnej kreacji
– Inspiracji dbania o siebie
Gdzie?
-> Spotykamy się w przestrzeni kreatywnej Studio Butter na ul. Niemcewicza 7/9 w Warszawie.
Kiedy?
11.02 (sobota) godz. 14:00 – 18:00
Dla kogo?
-> Dla wszystkich! Jeśli zaistnieje taka potrzeba warsztat odbędzie się po angielsku.
Co jest potrzebne?
-> Zimowe przemyślenia i chęć podtrzymania wewnętrznego ognia, póki nie nastąpi wiosna!
 Zobacze relację z edycji Jesień 

https://www.facebook.com/media/set?set=a.616770507117905&type=3
Jeśli masz jakieś wątpliwości lub chcesz poznać więcej szczegółów napisz do nas na hola@venusand.co
---
[EN] Seasonal Me is a series of creative workshops for adults led by a psychologist and designers. Using art therapy techniques we will focus on promoting self care as the seasons change.
We invite you to next workshop in the series – winter! During the meeting, we will create sculptural forms inspired by flora and fauna using binding and wrapping techniques. These charms and amulets will become a symbol of our intentions and values ​​for the next season.
Joining our workshop, you will:
experience self expression and transformations of the conscious and unconscious parts of yourself
learn techniques that enable your creative development
have opportunities to share reflections
create in a collective environment
be inspired on how to take care of yourself
Where?
-> We meet in the creative space Studio Butter on ul. Niemcewicza 7/9 in Warsaw.
When?
-> 11.02 (Saturday) at 14:00 – 18:00
For whom?
-> For everyone! If necessary, the workshop will be held in English.
What is needed?
-> Winter thoughts and the desire to keep the inner fire alive until spring arrives!
 See the report from the Autumn edition:
https://www.facebook.com/media/set?set=a.616770507117905&type=3